Masterpiece Villa Design in Dubai
Elevate your lifestyle with a masterpiece villa design in Dubai
Notorious for its opulent living arrangements and expensive lifestyles, precision in designing a villa in Dubai is required. Dubai's villa architecture perfectly embodies the glory and splendor of the city while providing homeowners with an unrivaled level of convenience and sophistication.
Whether it is a modern home design or a contemporary home design, we provide sleek designs, featuring minimalistic aesthetics, and an emphasis on utility. We ensure that every home we design is a monument to the city's architectural brilliance.
The design assures that its residents not only experience a comfortable stay but also get to indulge in the magnificent views of the city. Our villa designs offer breathtaking views of the surrounding metropolis through its expansive windows and balconies, providing an unmatched living environment. Also, we make sure that the design enable sufficient natural light to permeate the entire interior seamlessly, creating a spacious and open atmosphere that is both attractive and invigorating.
By blending the practical aspects and visual appeal of the Villas, the home incorporates luxurious extras that take your living experience up a notch. If desired, the villa's outdoor space can include an infinity pool, recessed seating, and even a waterfall. We offer the capability and the flexibility of doing everything you can envision as an ideal, whether it is for unwinding with family or hosting guests, we take pride in managing our designs to fit your vision.
Architecture as Art. Building your masterpiece home starts with us.
Architecture for us is more of a form of art form rather than just a profession. At Teal design, we strongly emphasize on developing your ideal home while encompassing more than just designing a utilizable home. It's about providing a masterpiece that reflects your distinctive flair and persona. We provide tailored home architecture design services in Dubai to assist you to embody your vision into the home you want.
The necessity of designing a masterpiece that testifies to your vibrance is what gives us pride in designing your home to stand out. While paying the closest attention to the smallest details, we ensure that our designs demonstrate this belief. Our ideas when it comes to villas are meticulously designed to produce a place that is both practical and visually stimulating, from the layout to the finishing.
From a professional perspective, designing your ideal home may be a complex endeavor. However, from a passionate approach, we create architectural masterpieces where we find fulfillment in the passion rather than just taking it as a profession.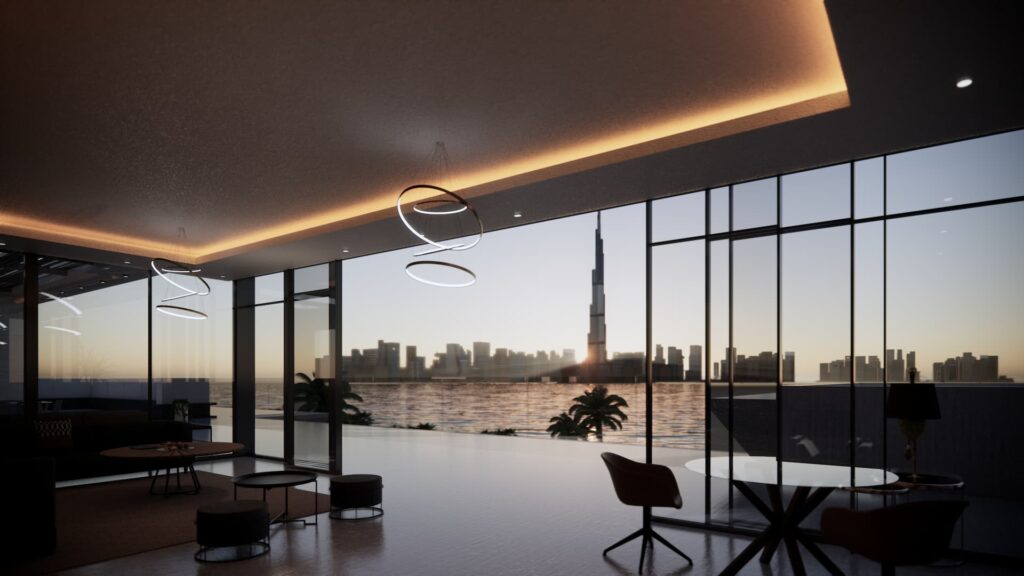 Your visions can become a reality with an elegant, modern villa design in Dubai.
The epitome of opulent living is Dubai's sophisticated Modern home design. Combining Talent, vision, and passion can help you to transform your ideas into reality. The design of your dream home is done progressively, from the initial consultation to the finished space, we are there to finalize your vision into a home.

Simply that is done through collaborating with you to discover your distinctive ideas, living style, and interests. After that, with our vast know-how and experience, we develop a bespoke contemporary villa design that embodies your vision and goes far surpassing your desired outcome.  These modern villa designs stand out for their precision, simplicity, and elegance. One of the many factors that we consider in our designs is creating panoramic views of the City of Dubai, whether these views are the Dubai Skyline, sea, or both. We do that while maintaining the solitude of the living space and the privacy of the residents.
Throughout the process, we will ensure that you are always looped in with the designing process so your vision can be executed according to your demands. With our core beliefs that designing a home is relieving process, we provide diversified services that can take the stress away from the process.
Experience unmatched comfort and style with luxury villa design in Dubai
Contemporary home designs in Dubai provide unrivaled leisure and grandeur. These villa designs are well known for their refined but elegant style that radiates prestige and timelessness.
We aim for quality while applying a decent comprehension of design ideas to actualize your vision. These contemporary villa designs are created specifically for you in order to meet your individual requirements and taste.
We work directly with you throughout the whole process to make sure that your ideal home is built to your exact specifications. Our goal is to surpass your expectations by providing a magnificent and elegant contemporary villa design, from the initial visit through the completion stage.
We strongly emphasize utility, spacious layouts, and natural sunlight to create a soothing and peaceful living place. Through creating a contemporary home design, we are determined to find the right equilibrium between comfort and luxury in every project we collaborate on since we think they should team up to actualize your vision.
Got a project or want to approach us?